hi;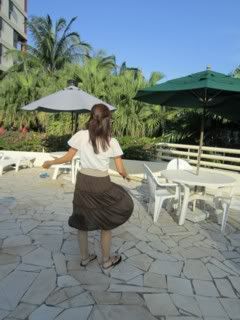 Ƹ̵̡Ӝ̵̨̄Ʒ ❀ RUIQI ★♥♦♣♠

Hello.

The name is Rui Qi (pronounced 'Ray Chee', 'q' has a ch- sound like that in 'chair'). But I have also heard enough manglings of my name to respond to anything that you may wish to call, so you're in luck there.

Has a "lively playful disposition that delight[s] in anything ridiculous", wants to be a "beautiful little fool".

Introductory posts you may wish to read first: #1; #2

The past me decided on this childish name of a blog link, the present me is slightly regretful but is still a sentimental mess.

Don't take what I say at face value, don't read too much into things, either. If you read Chinese, 不要对号入座也别胡思乱想.

I am an agnostic/non-theist.

"Before you assume, learn the facts. Before you judge, understand why. Before you hurt someone, feel. Before you speak, think."



© violingal.blogspot.com 2005-2016 by Rui Qi is licensed under a Creative Commons Attribution-NonCommercial-NoDerivs 3.0 Unported License.
TL;DR: you cannot republish any or part of my posts at all, but if you ask me for permission and I grant it, you can do whatever you please with it. Sounds fair innit.

OTHERS
Amirah
Catherine
Chaijun
Chinghee
Cindy
Huiwen
Joan
Joseph
Junya
LitBlog
Sakinah
Sargas
Tchoukball
Thaddeus
Verena
Wendy
Yanshan
Ziheng
Zining

SPEAK
JAPAN 2011
6 July 2011 Nippon nuggets #1
6 July 2011 Day 1: the start of the matcha float obsession
7 July 2011 Nippon nuggets #2
7 July 2011 Day 2: of places not worth going
8 July 2011 Nippon nuggets #3
8 July 2011 Day 3: the love/hate relationship with the word 押
9 July 2011 Nippon nuggets #4
9 July 2011 Day 4: of the well water I should not have drunk
10 July 2011 Nippon nuggets #5
10 July 2011 Day 5: burnt and fried
11 July 2011 Nippon nuggets #6
11 July 2011 Day 6: royalty, gold and luck
12 July 2011 Nippon nuggets #7
12 July 2011 Day 7: of 散心 and a lot of writing
13 July 2011 Nippon nuggets #8
13 July 2011 Day 8: of deer and drama
14 July 2011 Nippon nuggets #9
14 July 2011 Day 9: distinctively Japanese
15 July 2011 Nippon nuggets #10
15 July 2011 Day 10: vermillion and socially awkwardness
16 July 2011 Nippon nuggets #11
16 July 2011 Day 11: speed
17 July 2011 Nippon nuggets #12
17 July 2011 Day 12: red-faced, distress and weri cute xiong mao
18 July 2011 Nippon nuggets #13
18 July 2011 Day 13: Idontwannagohome!
19 July 2011 Day 14: sayonara sakura

PREVIOUS
STRANGER THAN FICTION
Being slightly narcissistic here, but these are the blog entries I like/you should read.
The Hot Girl's Defense
one setting, two stories
flowers make me happy :)
philosophical
how NOT to make an origami Eevee
botak pantai
the alternate marriage vow
the wisest words are said by children
family ♡♡♡
now the holly bears a berry
a decade on...
matchmade
yukata FTW
toadally awesome
of sexting and pick-up lines
of vlogging and blogging
"you're going to scald your baby next time"
the sociological perspective
letting go
no work and all play
children
prophecy
seeking perfection
save the day
the joys of driving
contradiction
pray
of quotes and thoughts
crossroads/catharsis
killjoy + joy
the send-off + outtakes
stream of consciousness x 7
balloons love
exhausted
celebrities galore
to come up with marvellous ideas, eat duck rice
of music and lyrics PR
Carmen - the epitome of feminism
mind your grammar, please
zen
tres amusing
let nature take its course
知音
sunshine after the rain
bin-isms
relationships
it's up to the Powerpuff Girls to save the day!
the perks/perils of black stockings
"endearing hug"
thinking deep thoughts
convincing writing like never before
lost in translation
drink drank drunk
you believe because you believe
"love never dies"
they deserve a post to themselves
must be the funnest recess/exam week ever
this should have been highlight of the year too, I killed a cockroach! - cooking/screaming up a storm
epiphany
it actually deserves an update, but here's letter to my 16-year-old self
privacy in the online world? forget it
word of the day: exposure
maybe we should get back, to the old days
of blogging
happy birthday, you inanimate thing
trilogy

CREDITS
Inspiration from everywhere, including my previous blog templates.
x x